Sydney - Australian Environment Minister Tanya Plibersek has been in Paris, France, for talks on a proposed global plastics treaty. A United Nations committee is meeting to work on a global pact that aims to end plastic waste. There is, though, little consensus about what the outcome should be.
The Intergovernmental Negotiating Committee for Plastics began meeting Monday in Paris to develop the first legally binding global treaty on plastic pollution. Discussions in the French capital are expected to end Friday.
The meeting has attracted more than 2,000 people from almost 200 countries.
The challenge they face is immense.
UN Talks on Treaty to End Global Plastic Pollution Open in Paris
In April, the United Nations Environment Program said more than 430 million tons of plastic were produced each year. About two-thirds are short-lived products that soon become waste.
Norway and Rwanda are leading efforts to end plastic pollution by 2040 to protect human health, protect biodiversity and mitigate the impacts of climate change.
There is, though, no consensus. Chemical producers believe any deal to eliminate plastic pollution should retain the benefits of essential and life-saving plastic items. The United States, China and Saudi Arabia believe more effort should be made to boost recycling. Other participants have insisted national agreements, rather than a uniform global treaty, would be the best approach.
SEE ALSO: A related video by VOA's Arash Arabasadi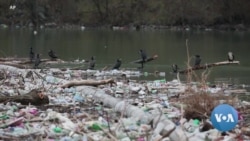 Embed share New International Push Underway to End Plastic Pollution Embed share The code has been copied to your clipboard. width px height px
No media source currently available
Australia is keen for an international accord to be struck.
Australian Environment Minister Tanya Plibersek has been in Paris and told the Australian Broadcasting Corp. Wednesday that a global pact is the best way forward.
"That strong international ambition gives us something to aim for and countries to cooperate with," Plibersek said. "By working cooperatively with Europe, we lift our ambition here in Australia because they have got higher standards on some of the recycling and types of plastics and plastic additives."
Plibersek said Australia would double its recycling capacity by 2025 by investing in 48 new waste facilities.
Australia Bans More Single-Use Plastics
The Australian Capital Territory, the jurisdiction that surrounds Canberra, will expand its ban on plastics from 1 July. Other Australian states and territories have developed a range of laws on plastic waste.
In June 2022, New South Wales banned lightweight plastic bags.
Western Australia and South Australia will outlaw the use of plastic takeaway containers in 2024.
Western Australia will also ban expanded polystyrene that is used to pack electrical goods in cartons in 2025.
Australian authorities have warned previously that the amount of plastic waste in the oceans could outweigh the fish population by 2050.